Digital Communication Network Global participates in the annual Global Media and Information Literacy (MIL) Week, led by UNESCO in cooperation with the UNESCO MIL Alliance, the UNESCO-UNAOC MIL.

As part of GMIL Week and our ongoing activities in the field we are organizing a Global Panel discussion in order to present the situation and initiatives of MIL across the world. Our well known speakers from all over the world will discuss and present MIL activities and policies in different continents. They will share their expertise and ideas bringing into the forefront innovative practices across the world.

Click here to register and join us!

Meet the speakers: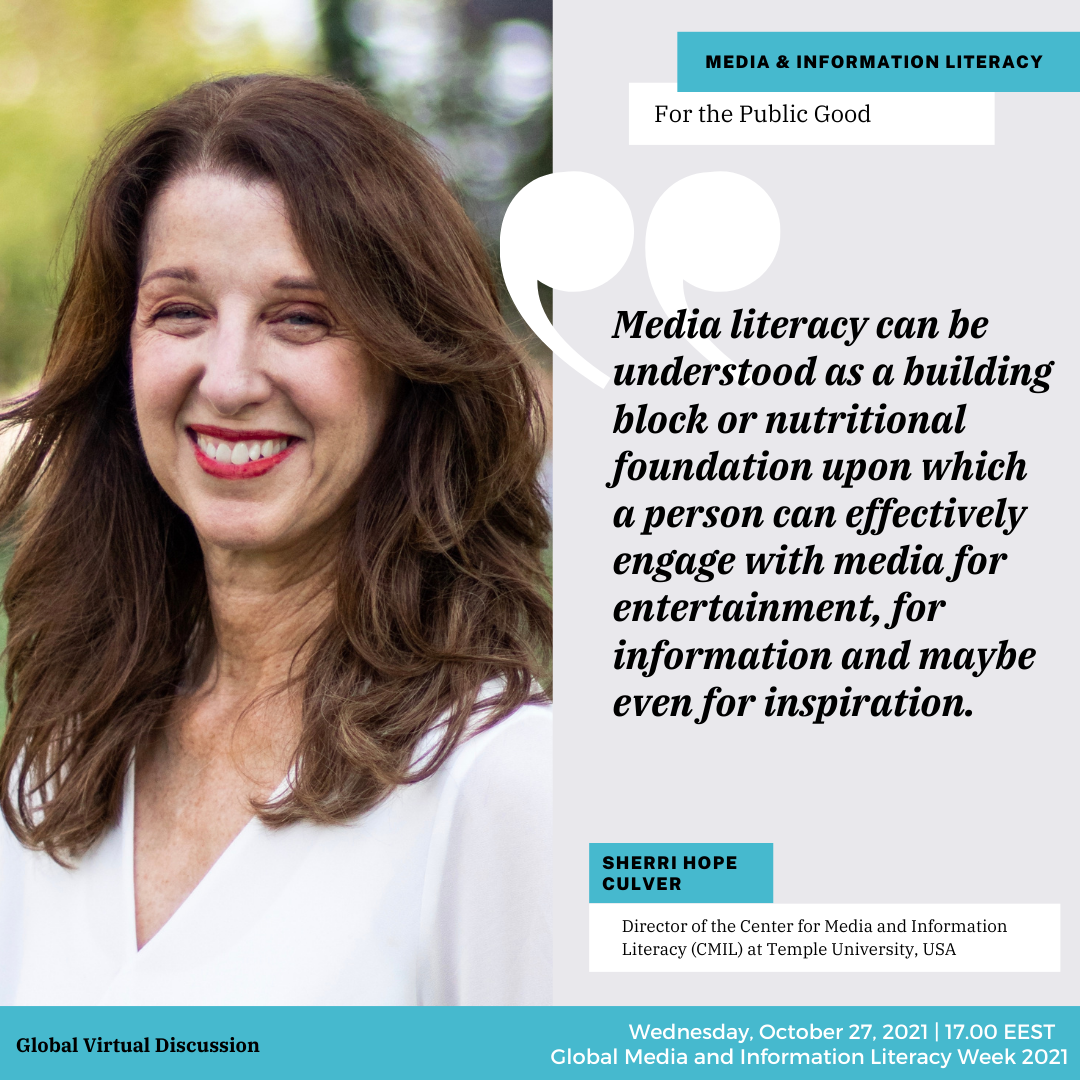 Sherri Hope Culver serves as Director of the Center for Media and Information Literacy (CMIL) at Temple University, USA where she is associate professor in the Klein College of Media and Communication.Sherri's teaching and consulting focuses on media literacy and media institutions, with a focus on children's media.She serves as vice-chair of the global Media and Information Literacy Alliance, a UNESCO-led alliance of over 600 organizations from 80 countries. Sherri produces and hosts the podcast Kids Talk Media.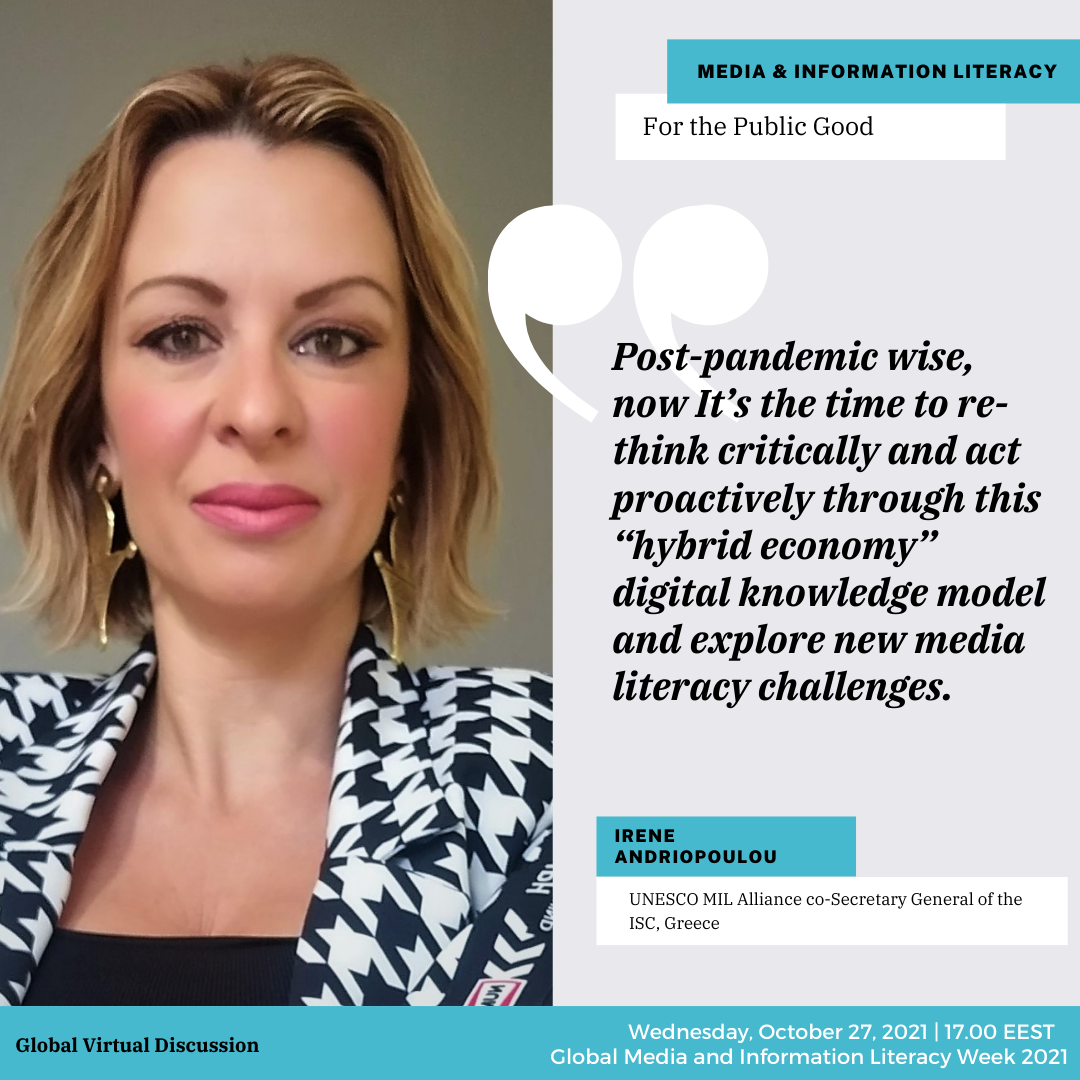 Irene Andriopoulou is a media literacy researcher, policy analyst, practitioner and advocate on media for nearly 20 years. She is now selected member of the new European Expert Group on Tackling Disinformation and Promoting Digital Literacy through Education and Training and has been serving as member of the EC Media Literacy Expert Group, also DG Connect, since 2006. She works closely with UNESCO as global co-Secretary General of the International Steering Committee for UNESCO Media & Information Literacy Alliance (2019-2022), on a multi-disciplinary approach on media and digital literacy for parents, educators, children, policymakers, media stakeholders and media professionals. Presently, Irene is Head of Research, Studies and Educational Programs Department at EKOME, the National Centre of Audiovisual Media and Communication in Greece. She is the Greek editor of UNESCO "Media and Information Literacy Curriculum for Teachers" (2014), co-author with Art Silverblatt of "Media Literacy: Keys to Interpreting Media Messages" (2016) and editor of the "White Paper of EKOME on Media and Information Literacy". She is also project manager of UNESCO MIL Alliance European Sub Chapter Mediterranean Group, coordinated by EKOME. Through, focusing on evidence - based research combined with practice through public service platforms the upper goal is to achieve lifelong learning media literacy competence for all. She holds a BA on Communication & Mass Media, Athens University, a Master of Arts in Media Studies, Sussex University, and is a PhD candidate at Aristotle University of Thessaloniki, Faculty of Journalism and Media Studies on MIL policies.
As Head of Media Literacy Department at the Hellenic Audiovisual Institute - IOM (2004-2011), Irene highlighted media literacy in the public discourse and typical education, through developing the "Greek Media Literacy Database for Children, Young People and the Media" and the first "Nationwide Research on Media Literacy Education in Primary Schools" in Greece. She has worked for the national public service broadcaster ERT (Children's program section) and the Ministry of Digital Policy. She was also Research Associate at ELIAMEP - Hellenic Foundation for European & Foreign Policy on the Crisis Observatory Plus (2013-2019).


PhD in Communication and Strategic Management, MA in Gobal Media, and in Journalism and Translating and Interpreting. Lecturer at an undergraduate level from 2005 in the fields of Communication Theory, Communication Ethics, Rhetoric, Political Communication, Leadership and Communication Skills, Film Language, and Scriptwriting. Since 2013, he has been teaching undergraduate students in English at San Pablo-CEU University (Madrid, Spain), where he has also directed the Degree in Journalism between 2015 and 2019. He currently directs the CEU-Columbia program. He has recently been the PI of a project to research the impact of disinformation on vulnerable sectors of the population in Spain funded by Facebook and the Fundación Luca de Tena (the final report is here), and he is currently the PI of the USPCEU branch of IBERIFIER, one of the eight research hubs of the European Digital Media Observatory.


Former Consultant to UNESCO, Dr. Drissia CHOUIT is a Professor of Comparative Linguistics, Communication and Media Studies at Moulay Ismail University of Meknes, Morocco. She is the Representative of Moulay Ismail University to the UNESCO-UNAOC Global Chair and University Network on Media and Information Literacy and Intercultural Dialogue since its creation in June 2011. She is also an active member of the UNESCO Media and Information
Literacy Alliance. She obtained her Ph.D. in Linguistics and Communication from the Sorbonne Nouvelle University (Paris 3), France, and she is the author of a number of publications in linguistics, communication, and media and information literacy.
A fervent advocate of Media and Information Literacy for All, she is the leader of Project MILA (Media and Information Literacy for All), a major part of which is her multilingual educational website "Media Information Literacy for All", hosted on the server of the United
Nations Alliance of Civilizations. Created in October 2013, it has an average of 30,000 visits per year.




Chrysoula (Chryssa) Lazou is an English Language educator and School Life Counselor in secondary education, Hellenic Ministry of Education. She holds a Bachelor Degree in English Language and Literature, Aristotle University of Thessaloniki and a Master's of Education in Distance Education, Athabasca University, Canada. Chryssa is an International Visitor Leadership Programs (IVLP) alumna, the Secretary General of the International Association for Blended Learning (IABL) and past president of the English Language Educators Association of Kavala, Northern Greece. She trains pre-service and in-service teachers in technology-enhanced learning, instructional design, mobile learning, and media literacy education. Chryssa implements projects on digital and media literacy enhancement for teenagers in her educational context on a local, national and international level, participates in the Greek Media Literacy Week with a focus on raising awareness and training teenagers on media literacy skills, and has published research articles and chapters in the field. Her media literacy projects have received awards and distinctions among which the Education Leaders Award for Innovation in Education, the ELT Excellence Award, and Bravo Schools Distinction.



Farai Mwakutuya is an award winning international journalist with over 14 years' experience in the media industry in East and Southern Africa. He is acorrespondent for China Global Television covering Zimbabwe and Zambia.He helped set up Zimbabwe's first privately owned radio station (ZiFM Stereo) in 2021 and was a presenter of current affairs and economic talk shows onthe station up to 2016. In 2012 he was named Mining Reporter of the Year inthe National Journalistic Awards. He is a founding trustee of the ZimbabweAssociation of Broadcasters. He holds a Masters in International Business(with Law) from the University of Salford (Manchester).



Digital Marketing Specialist with more than 4 years experience in Pay-Per-Click Marketing and Social Media. Content creator and curator. He focuses one curating news and newsletters.


Aren Melikyan is a multimedia journalist and podcast producer. He worked for several well-known regional and international media organisations, such as Radio Free Europe/Radio Liberty at its headquarter in Prague as a Vaclav have Fellow, Media Initiatives Center, and also for Chai-Khana.org, an award-winning regional media platform that engages with minority groups, women, rural communities, and conflict-affected communities in the Caucasus. Contributed to the independent media outlet EVN Report, produced podcasts, multimedia stories and documentaries. Worked as a fact-checking journalist and media analyst for Facts Investigation Platform, and as a reporter for Public TV of Armenia. Winner of "Tvapatum 2018" media award, Special award, "Tvapatum 2021". Have earned a bachelor's degree in journalism. Working as a correspondent during the second Nagorno-Karabakh war (2020), contributed and bylined for several international media outlets, such as CNN Digital and BBC World Service.